25 May 2017
Alcohol comes in different variants… While everyone has their individual preference over the type of alcohol they like to drink, but beer is universally hit. It is like the best friend you never had. And here is why.
1. It cools you off on hot days and gives you the right feels in rains and winters. It's your all season drink for sure.
2. It doesn't immediately give you the high that any other alcohol would. It lets you enjoy the moment and knock down a couple of bottles before you start visualizing stars. 3. A beer bottle fits right in your hand and you can drink it at your own pace without really bothering about it being spilled.
4. It's cheaper than other drinks and everyone likes beer. You can drink as well as hang out with your favourite set of friends, all at once.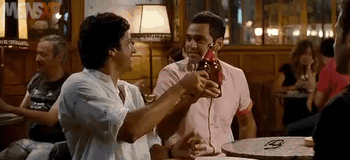 5. It doesn't give you as big a hangover as whisky or any other hard drink does. 6. And guess what? It is actually good for your health. Apart from adding density to your bones, it also helps in avoiding heart disease and stress.
And now of course:
Subscribe for our weekly newsletter