17 May 2017
Just a couple of weeks ago, we saw Ramdev baba making a grand entry on The Kapil Sharma Show and he was quite hilarious in his entertainment show debut. And now we hear that he will be gracing the centre stage of Nach Baliye 8. Wow, that's something unusual!
This week, the show will have its wild card entry episode and Ramdev baba is just going to spice it up more with his personality. Not only is he going to teach a few yoga moves to the judges, but he is going to do headstand with a few contestants as well! Check out the pictures.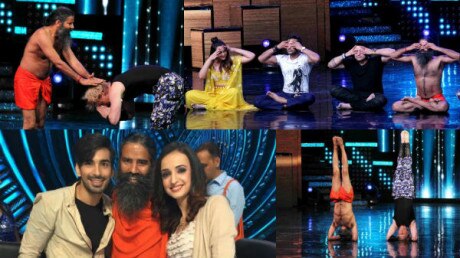 However, Ramdev baba did make a perilous mistake, by getting Sonakshi Sinha's name wrong. He called her Meenakshi. Now, that's like being rechristened by the baba himself.
Word is that Ramdev baba was mighty impressed with Aashka Goradia's boyfriend Brent Goble. And why wouldn't he be? To be honest, Brent is more 'Indian' than all of us put together…
Although he did manage to convince everyone to explore their flexibility, wonder if the contestants and the judges could lure him into the art of dancing too? Well, we will have to wait and watch the episode this weekend, for that.
Tell us your thoughts about this in the comments section below. 
Subscribe for our weekly newsletter